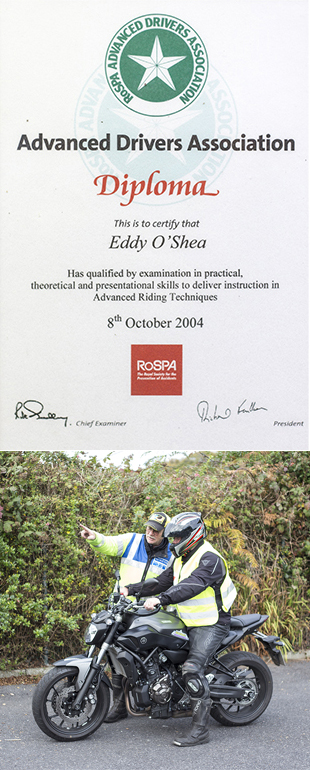 BIKECRAFT
I have been driving motorcycles for the past 40 years having purchased my first motorcycle from Frank Jones in Kanturk in 1971. Since then, I have owned and driven at least 20 different motorcycles. During that time my 3 children have driven motorcycles and to this day 2 of them still do.

Motorcycles have often provided a basis for holidays, tours and regular conversation in our house and I am sure will continue to do so in the future. Interesting trips during these time were several trips to France, Austrian and Italian Alps, The Arctic Circle, Pyrenees, Corsica, Tuscany, Scotland and Wales. In Ireland an Irish record by visiting one town in all 32 counties in less than 24 hours. This record was validated by the Guinness book of records.

Over this period motorcycling has changed significantly in several areas. To mention a few: clothing and helmets, motorcycle performance, tyres, complexity and road and traffic conditions. Two great developments in clothing have been the use of Gore-Tex which means you don't need to get wet anymore and the pin lock visors which eliminates condensation.

Motorcycle performance has improved dramatically with increased power and handling. An example of a 1995 R100 (1000cc) producing 50 BHP and today R1200 (1200cc) producing 120 BHP.
The shape, construction and material content in modern tubeless tyres have given extraordinary improvements in handling, reliability and safety.

Life as motorcyclist in 2011 has however become much more complex as a result of an increased number of road users and a lack of appropriate training over the last number of decades. Modern motorcycles also offer a significantly higher level of performance and capability in the right hands.

The profile of the modern motorcyclist requires the development of the following skills:

Observational advantage,
Ability to anticipate,
Optimal position on the road,
Excellence in Bike Control,
Dexterity and coordination skills,
Courtesy,
Maintenance of the motorcycle.
All of these skills and others can be learned during the course of a motorcycle training program. These are available at introductory, intermediate and advanced levels. Without these skills motorcyclist will remain exposed to dangers which can be avoided. The government has introduced IBT Training for all motorcyclist who have purchased a licence since 6th of December 2011.
This is a 16 hour training program which must be undertaken in order to make the licence legal and will also be required in order to purchase insurance. All training is provided by an approved ADI instructor and must be conducted on a school bike at an RSA approved training centre. All relevant information is available on the RSA website.
Reaction from students attending IBT training program has been positive and gives significant advantage to anyone starting to ride a motorcycle. Students have varied in age from 16 to 60 and all of them have viewed IBT as a positive experience, indeed a number of them have decided to do some additional advanced training. An interesting comment from one of our students was as follows: "I guess motorcycles are not stupid, there are just lots of things they just don't know".

Training can teach people to develop standard methodologies and behaviours which will help significantly to improve motorcycle rider competence and allow you to enjoy riding your bike.

Enjoy your biking and give me a wave as you see me out and about.

Eddy
READ SOME
REVIEWS

FROM OUR CUSTOMERS
Big thanks to Dave O'Shea for all his help in getting my IBT. He is a brilliant instructor, very friendly and professional! I would have no hesitation on recommending him to anyone!
Thanks to Bikecraft for helping me to pass my motorcycle driving test first time round! Eddy is a great teacher – patient and supportive. I would highly recommend him to anybody who wants to learn how to ride motorbike first time. I really enjoyed my lessons with him.
I strongly recommend Eddy for his skills and experience in teaching. His patience and commitment motivated me in passing the test.
Did my IBT during weekend with Dave, very good and well explained and fun. Good teacher.
HAVE A QUESTION? CALL US
0872578225
WE ONLY USE NEW BIKES – 12 YEARS OF EXPERIENCE – SUPPLY ALL EQUIPMENT – WE WILL COLLECT YOU